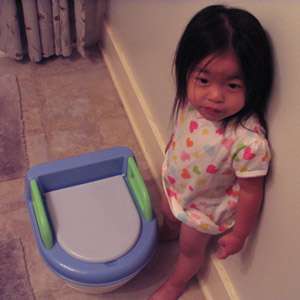 It was a little difficult to potty train Katelyn, and she certainly gave us a challenge. We tried giving rewards, leaving her without any pants… you name it! Maybe we were just being too impatient, but we were ready to give up!
After trying almost every method we could think of to no avail, Super Daddy — the "Psychologist" that he is (well, a Psych major and Psych nurse… he's no Psychologist per se) — decided he was going to do one last "psychological" thing before we threw in the towel completely.
He kicked everybody out of the house! We needed some consistency with her training. Tatang and Inang were sent on a much-needed 2-week vacation in Missouri City. Mommy was sent to her 14-hour work shifts at the Pharmacy. That left the house with just Katelyn, Daddy, the potty… and a secret weapon (well, weapons, really)!
Luckily for us, Katelyn has a best friend "Amy" – a stuffed brown rabbit bought by Mommy in the mall (this was before she had Elmo, Pinky the Pig, White Lamb, and her other list of "friends"). Because Katelyn was resistant, the trick was to potty train Amy instead of Katelyn. Then reward Amy for her good work. I told you it was tricky!
Daddy invited Katelyn and Amy to a snack party. Everything was setup with a table for three. We had tea sets at home that Mommy lent us for this project. We drank orange juice and water for our fun "party" for Katelyn, Daddy, and Amy. Then at certain intervals, I would take Amy to the potty. I would then give her the best hug and praises I could give for "using" the potty, and afterwards, take her to a canister on the table with chocolate wafers. The cycle would then start over.
Katelyn was very excited to have a party with Daddy and Amy. She was grinning and clapping a lot. After a while, it reached a point where she would bring Amy to the potty herself and attempt to reward Amy with the wafers (I had to intervene on that part of course, because Amy couldn't really eat). Katelyn wouldn't even wait for my prompting anymore. My heart was beating fast. This might actually work!
This went on and on, until she finally decided it was also her turn to use the potty and get the much-wanted attention from Daddy that he was giving to Amy every time Amy used the potty.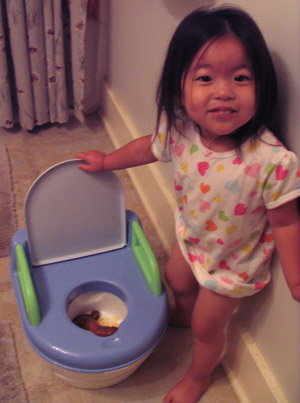 Alas, we hit success! Yippey!!!
I can't even describe to you the elation I felt! Let's just say I looked like a fool if somebody were to peep inside the window. Let's just say I did a victory dance… and more…
I then called Jenn immediately with the good news!
Beware, the photos below are a little graphic! Well, maybe not a "little" …
It was taken in the summer of last year, 2009.
Take a paper bag with you, just in case. You've been warned!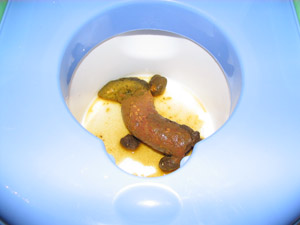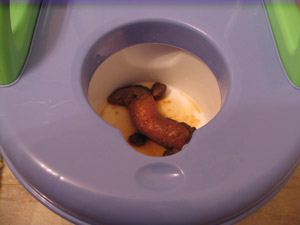 Can you believe the size of that thing? I guess everything is bigger in Texas!!!
→ Posted on September, 2010 by Daddy
→ Previous Story: She's Daddy's Little Girl
→ Next Story:
Let me know your thoughts. I can't wait to read your comments!